Purple and White Wedding Theme- A Perfect Royal Combination
For people planning a purple and white wedding theme, will remember it forever because of two reasons, first this day is their one of the most important day of their life and it will also be the best day of their life as this color theme is very eye catching wedding theme. This is because these colors are known as one of the most elegant and classy. Another benefit is that you get everything in these colors. Whatever you get in purple you definitely will get it in white. You will get flowers, cakes, chandeliers etc. Invitations can also be of purple and white.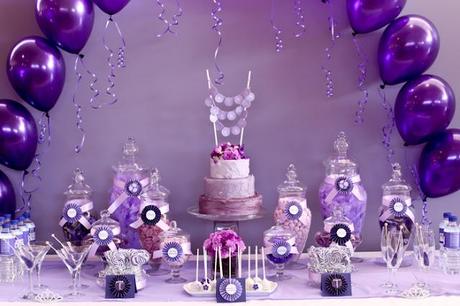 Moving to dresses the bride can wear purple while the bridesmaids can wear white. The bride's hairs can be decorated by purple and white flowers. The brides nails, hair, eyes; everything that is called make up should be in purple, from the nail polish to the eyeliner but of course no purple lipstick. The wedding shoes and ear rings also should be in purple. The groom can wear a normal black suit with a purple tie and a purple handkerchief in pocket with some of the color on the clothes.
The decoration flowers can be purple and white. Even the aisle runner in a purple wedding theme can be white and the written letters can be in purple and something like 'from this day and forward' with the date can be written and also purple lighting down the aisle. The tables can be covered by white table cloths and the chairs also can be covered by white with purple ribbons. Candles can be simple white with designs or ribbons in purple color. The candelabras also can be white with purple shaded crystals hanging from them. Purple grass or vines can be used to make a simple heart. A purple birdcage can be used to collect cards.  While the cake is purple and white, the cake stand is simply silver, golden or chrome. Sweets can also be of these colors. The chocolates can be purple with white decoration. This makes the chocolate much more delicious. The chocolates are best in round shape. A purple ruffle wedding cake or purple swirl cake is one of the best cake options you can think of. The layers of the cake from inside also can be white and purple. If you reach till inside the cake it is a sign if brilliance. Dessert like cookies also can be matching the purple and white wedding theme. There can be purple candy bars on a purple dessert table.
Previous
Next
Your email address will not be published. Required fields are marked *